Houston, we have a problem.
Something I did not check when I went to pick up the saw. The miter adjustment screws.
Oops.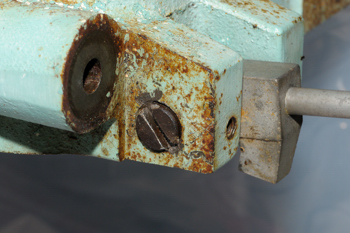 They are rusted into the cast iron. Totally rusted. Stuck. Frozen. Fused.
I tried banging on them, torching them with propane and MAPP. PB Blaster for days. Impact Driver (broke two bits).
Bummer.
So I hooked up with my main man in NY, Jude (Beta Zeta). This is an enigmatic figure who apparently collects saws from the NY area and parts them out. He is very active.
A couple of emails later I secured a 925 arm with screws in good working order for $20 bucks. Another $30 to ship it but why mess around? God willing this is the last hurdle.