We used words like "polished" and "shiny". OK. This was not exactly what I had expected, LOL! Well, live and learn. This has not been a good winter for my saw restorations.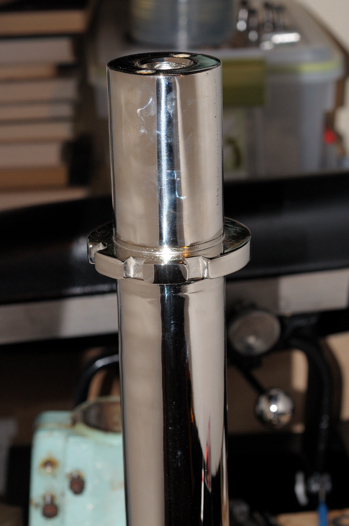 It just screams "hot rod" which is not a bad thing but I want it to simply state "industrial" in a calm way. I'm curious to see how it will behave inside the column. I can always throw it on the wire wheel and give it a brushed look but, what the heck, maybe I'll like it when I get it all together. I have decided that this particular 925 is going to be pure gloss white so it may just work out fine.
They polished it and then put a coat of copper on, I think, polished that and then hit it with Nickel. Wow. Very reflective. It's tough, too. I tried the wire wheel on the section where the arm goes and the Nickel basically laughed at me.