So I pulled apart the motor and took a close look at this thing.
It doesn't appear to ever have worked, basically. When the motor is not running it should scrape lightly against the housing next to the rear motor bearing. When the rotor is spinning, centrifugal force should pull the two arms scraping the housing away from it by what looks like 3-4mm. On mine the arms can't even reach the housing.
It looks like the previous owner may have wired it open for some reason.
In this picture the surfaces are all covered with some white rust/residue which should be worn away where the arms scrape the housing.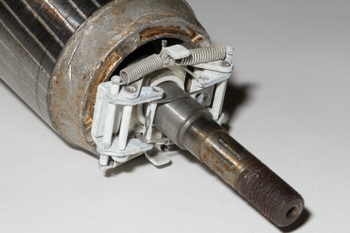 While I was in there I cut out a bit more of the insulating material mentioned
here
. Now the motor does not make the "tiff, tiff, tiff" sound although when I run the motor (albeit with the rear fan removed) the rotor still warms up for some reason.
My experience with this sort of thing is very limited. On my GWI motor, on which I spent a lot of time getting it perfect, I found that if there isn't enough forward pressure on the front bearing via the rotor that it will heat up. I solved that on the GWI by adjusting the rear bearing by pulling it off of the shoulder slightly so that there was more pressure on the front bearing. It worked like a champ although many folks felt this was the wrong thing to do (bearings should always be pressed onto the shoulder, etc..) Personally, I go with what works. The motor was quiet, powerful, no oscillations, and didn't heat up. Good enough for me.
Given that the rear bearing on the frame 235 "floats" so I don't think I have the same option here. Any suggestions?